Hello! I'm new here; my name is Julia and I write the newsletter for the foster families. Now I'm also going to be posting here and I thought I'd start with a Dog of the Week.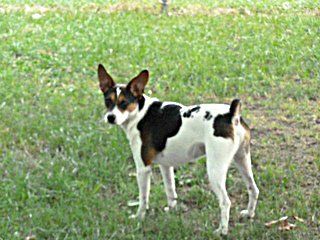 Our dog of the week this week is Fast Eddie and here's a little bit about him in his words: I am Eddie, AKA Fast Eddie. I'm a Jack Russell Terrier mix. I like to play ball, tug of war, and really love to snuggle. I am great with people of all ages and kids especially love me. I know some tricks, I can sit, lay down, and will jump up into your arms if you let me. My foster mom says I need to work on sharing my toys; I can be a little selfish. I love to chase squirrels and rabbits if you let me out in the yard, so a tall fence would be good. I can jump a 4 foot fence with no problem if you let me. At night I will snuggle in bed with you if you let me, but am just as comfortable in my kennel. I am house trained and a very sweet boy. If you will just give me a chance I will be the best friend you have ever had.
If you are interested in adopting Frankie or any of our adoptable dogs, click here to fill out an application to start the process.